Email Disclosures
TRANSACTIONS: Emails sent or received shall neither constitute acceptance of conducting transactions via electronic means, nor shall create a binding contract in the absence of a fully signed written contract.
WIRE FRAUD WARNING: Wire fraud by cyber criminals who send fake emails that look real is on the rise in real estate transactions. DO NOT rely on an email from the closing attorney with wiring instructions without also calling the attorney to confirm their account and routing number. DO NOT rely on anyone giving you revised or updated wiring instructions at anytime during the transaction. Always call the attorney's office to confirm wiring instructions.
Have A Question?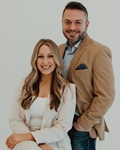 Cheryl Cloud NMLS# 545242
---
Senior Mortgage Originator
BankSouth Mortgage
175 Townpark Drive, Ste 125
Kennesaw, GA 30144
---
Visit my website
Apply for a loan
---
Mobile: (404) 310-3753
Fax: (678) 680-5677
---
Let me know how I can assist you with your North Metro Atlanta mortgage needs. I am here to help!